Welcome
17th Annual Charity Times Awards
Celebrating best practice in the UK charity and not-for-profit sector, organised by Charity Times
Congratulations to the winners! View here
The Charity Times Awards winners were announced at the gala dinner on 28 September 2016 at the Park Plaza Westminster Bridge, London.
Save the date
Charity Times Awards 2017
Wednesday 4th October 2017
Park Plaza Westminster Bridge, London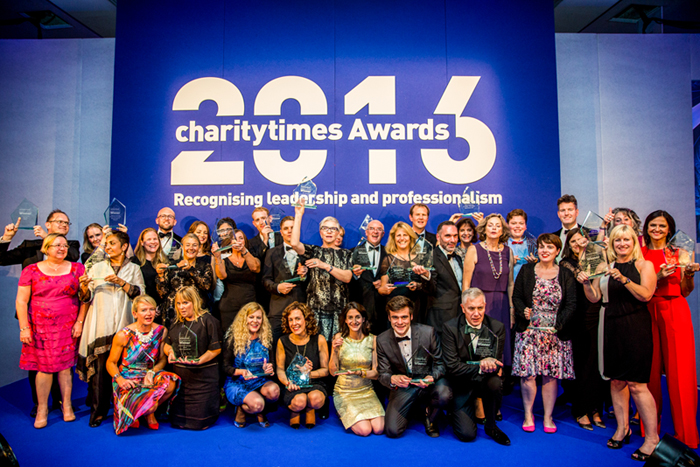 For the latest news and updates follow us @CharityTAwards #CharityTimesAwards
Quotes from the evening:
"Hurrah! We're so proud of our super @shaun_inthecity campaign - what a fab-ewe-lous evening! #CharityTimesAwards" – The Grand Apppeal
"Excited to win best Social Investment Initiative @CharityTAwards for work with @BritishGasNews @PermiraNews & others #CharityTimesAwards" – Social Business Trust
"Congrats to our award-winning team, partners @brain_in_hand & the amazing people we support #Winners @CharityTAwards Best Use of Technology" - Autism East Midlands
"@CharityTAwards Thank you all for this consideration! We are humbled and it means so much for our hard working staff around the world!" – BRAC
"We won!!! So proud - thank you @CharityTAwards #CharityTimesAwards" - Tyne Gateway Trust
"So proud of @createcharity team - while we didn't win @CharityTAwards Charity of the Year it was amazing to reach the shortlist :)" - Nicky Goulder
"Thrilled to win 'Best Use of the Web' at @CharityTAwards, for our #FixRenting campaign! It was a real team effort, so we're delighted." – Shelter
"We are proud winners of the @CharityTAwards Community Award. This is down to every young person who has been inspired to work for peace!" – For Jimmy
"A cause very close to my heart - glad to see @Bowel_Cancer_UK being recognised for their incredible work." – Anna Smee
"Woop woop - you guys rock! @erniepingpong @CharityTAwards @BTP @networkrail" – Samaritans
"Massive congratulations to our Standard Life Wealth team on their fantastic win at #CharityTimesAwards last night!" - Standard Life
The objectives of the awards have remained consistent since their inception:
• To honour the outstanding professionals in the many and varied fields of charity management
• To recognise, celebrate, and promote best practice
• To support continuing professional development
• Contribute towards raising the standards of charity management
• To promote and raise the profile of the charity sector
• To provide recognition for those who are providing effective support to the sector.